It's #CollegesWeek2023!
It's #CollegesWeek2023!
19 October 2023 (by Wendy Lamb (admin))
Find out why our learners love coming to HBVC!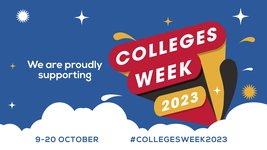 Love Our Colleges is a chance to celebrate and shout about all the brilliant things that colleges do, day in and day out to build communities, boost businesses, and support individuals. It is also our opportunity to call on government for better investment in colleges, and fair pay for college staff.
#LoveOurColleges
Click here for more info about the campaign: https://www.aoc.co.uk/love-our-colleges/colleges-week
Share this: