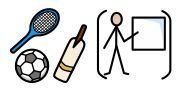 Sports & Education Programme
In partnership with Redditch United Football Club, we deliver a Sports and Education programme where students may work towards Sports qualifications. These range from Entry Levels 1 - 3 up to Levels 1 and 2 accreditations.
All sport activities take place on the First Team 3G Pitch and is delivered by qualified, licensed coaches, as well as guest coaches and the First Team coaching staff.
Alongside the health and wellbeing benefits, students will learn key skills and life lessons through sport, such as:
| | | | | | |
| --- | --- | --- | --- | --- | --- |
| | | | Building a sense of community | | |
| | | | | | |
Our learners will participate in a variety of sports and activities, and will gain knowledge about health-related fitness and exercise. Learners will also have the opportunity to take part in work placements at Redditch United Football Club, or within the local community.
The curriculum model that learners work from during their time at HBVC (Sport & Education) is skills-focused and diverse. The skills we aim for learners to develop, and gain are sequenced in a way that ensures that learning is scaffolded. Employment, health & wellbeing, and communication can all be linked to the sporting environment and lifestyles. This in turn will increase our learner's knowledge and awareness in the field of their interests. We know that all learners learn differently, and sport can be used as a tool to deliver integral content to our learners.
Implementation
The skills our learners work towards are set out in the curriculum map but how those skills are worked towards is left open to our teaching and learning team. Tutors and learning coaches have the freedom to plan tasks and sessions and deliver them in whichever way is best suited to each individual learner in their group. Learners will have access to the 3G football pitch at Redditch United between 11am-12.30pm on Mondays, Tuesdays, and Thursdays. Wednesday's will be employment days, where job experiences for our learners will be aligned to their job aspirations.
Outcomes
Learners will gain the underpinning skills in sport and knowledge of health-related fitness. These skills and knowledge can be taken with our learners on their lifelong journey beyond their time at HBVC. In partnership with Redditch United Football Club, HBVC will deliver a Sports and Education program where students work towards sport qualifications.