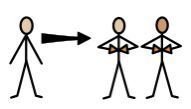 Job Opportunities
Start your career with us today!
We're currently recruiting for the following opportunities to join our amazing team. Please take the time to download and read the job pack for your chosen opportunity - we hope they'll give you a flavour of what we're about, what the role entails, and why you should choose us as the next step in your career!
If you have any questions or would like to arrange a tour of our college, please get in touch with Wendy Lamb, HR & Development Co-ordinator, on jobs@hbvc.ac.uk or by calling 0121 8090666.
Sports Tutor
In partnership with RUFC, our Sports and Education provision started in September 2021. The provision has made rapid progress and offers a unique programme which supports our learners to make excellent progress towards individual outcomes, which includes paid employment.
Based at RUFC with our existing staff and reporting into the Curriculum Manager, you will teach a specific group of learners, ensuring all lessons and activities are thoroughly planned in line with our bespoke curriculum. You will deliver varied and interactive sessions to maximise learners' success and make a real impact on learner outcomes.
If you are passionate about improving the lives of young people with learning difficulties and autism, can engage and motivate young people to help them realise their vocational, independence, social and personal goals, have high expectations and a good sense of humour then we would encourage you to consider applying for this role.
Download our job pack and application form here: