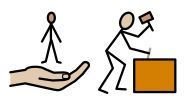 Supported Internships
A Supported Internship is a partnership between an employer and us as the learning provider to support our learners into paid employment. Placements involve a training programme where both the employer and the intern are fully supported by HBVC to ensure a positive experience for all.
At HBVC we have partnerships with a variety of employers, including Redditch United Football Club, Edgbaston Priory Tennis Club, HS2, the NHS, John Lewis, Birmingham Wildlife Conservation Park, Birmingham Education Partnership, EVOLVE, Eat.Make.Play and Lucky Tails.
There are considerable benefits to the employer and the learner from a Supported Internship placement:
Employer Benefits
Learner Benefits

Recruit trained, motivated staff from an untapped pool of excellent employees
Customers come from all walks of life, it's important your employees do too
Enhance your reputation both internally and externally. 92% of consumers interviewed in a recent study felt more favourable towards companies that hired people with disabilities
Provide employees with mentoring opportunities
Demonstrate compliance with the Equality Act 2010 and gain recognition as a Disability Confident employer

Gain real work experience in a preferred line of work and setting
Access and exposure to a variety of tasks and departments in a preferred setting
Mentorship both from HBVC and the employer
Guidance towards career goals
Creating professional networks
Building confidence
A smooth transition into a permanent role (paid or voluntary)
We can offer sector specific qualifications which will assist the interns in becoming more employable
What do we need from you, the Employer?
Two or three full days of work experience for the intern with the potential for paid employment at the end of the internship, to use our expertise to support you and the intern and to work with us where extra support is required, and to make any reasonable adjustments as required by the Equality Act 2010.
To find out more about why our Supported Internships would be great for your business, download our Supported Internship Leaflet here.

In the News
"Perhaps the greatest example of this would be the benefit to members oy my team in terms of social development that working with HBVC learners affords. I think many people, including some of my team, feel some level of apprehension when initially being asked to work with someone with additional learning needs. However, perception and reality end up being very different, and the chance to break down these initial apprehensions is something which has a knock-on benefit for our team.……The confidence that our staff has gained by working with HBVC has allowed them to develop more effective social skills, regardless of who it is that they are speaking to or working with.
The success of working with HBVC within just one department at Edgbaston Priory Club has been so obvious, that as a business we've moved to offer work placements, including Supported Internships, in several other areas of the business. This has resulted in learners having the opportunity to be gain exposure to roles in areas such as housekeeping and hospitality, and for staff in those areas to experience the same benefits as members of my team within the Grounds Department (where learners are exposed to elements of Amenity Horticulture)" - John Lawrence, Edgbaston Priory Tennis Club