Work Placements
You can explore your job opportunities by taking part in work placements. These will give you a real experience of employment outside the college.
You will learn how to communicate and co-operate with others in a work environment, how to talk to customers, deal with problems and overcome challenges.
You will also learn about health and safety in the workplace and gain helpful advice and guidance. Plus, you will discover the type of work you're suited to and what you enjoy.
If you want to talk to us about Placements please call 0121 809 0666 or email info@hbvc.ac.uk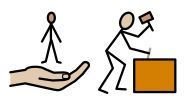 Supported Internship
Our supported internships are structured learning programmes based mainly at an employer. They will equip you with the skills you need for employment through learning in the workplace.
Internships normally last for a year and include unpaid work placements of at least six months. They will help you to reach your goal of moving into a paid job at the end of the programme.
You will complete a personalised learning programme, which includes the chance to study for relevant qualifications, as well as English and Maths.
If you want to talk to us about Supported Internships please call 0121 809 0666 or email info@hbvc.ac.uk